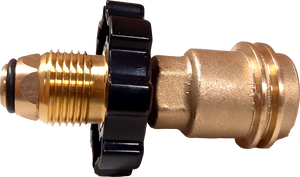 Do you have a 100 lb. or larger propane tank that you would like to use while running your Honda Generator on clean-running propane?
If so, you would find out that the larger cylinder has left-handed threads! Yikes!! We are on the mountain and need to adapt quickly.
Use this POL to QCC Propane Tank Adapter to convert those left-handed threads to a right-handed thread so you can use your Hutch Mountain Propane Conversion Kit with ease. You can now run your Honda Generator even longer during those times when you need it the most!